Lucia Tota, sculptor, painter, artist
.
After attending the 'Istituto D' Art of Avellino throughout the course of the sixties and seventies turns Napoli her city, she discovers it in its most traditional and characteristic aspects. She enrolled at the 'Academy of Fine Arts' under the teaching of the Master De Vingensis and Alfio Castelli. He teaches for several years and simultaneously produces works in painting, sculpture and porcelain. In the seventies, he participated in several solo exhibitions and impromptu painting. She moved to Rome, which receives major forces that will enrich his art. Her works are in private collections in Italy, France, Portugal, Austria, USA, Spain, Netherlands, Germany, Israel, Belgium and Australia.
"An interview with Lucia Tota"  by Andrea Romoli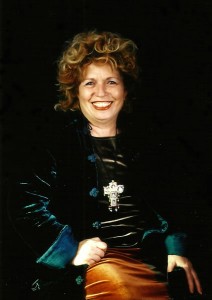 What path led you to realize this cycle of terracottas?
If we talk about paths, the story it would be pretty long. I've always had a big passion for modeling since I was young. Clay, because of its properties, gave me the possibility of having a direct contact with the material, without mediating instruments. Even now when I work, I use almost exclusively only hands, and sure, some proper instruments for certain touching-up. If you want to know how I arrived to make such abundant figures I can tell you that beyond the attention for plasticity, in which I always put attention on masses and volumes, my own physical transformation has played a fundamental role."
How?
I have to tell you that up until a few years ago I was very skinny. Because of my petite frame, within a few years i had a physical transformation that, although it may sound weird, inspired me my new cycle of works. I asked myself: why not to realize figures with more blooming forms? I started modeling more and more rounded figures from this autobiographical element up until these last ones that are clearly exaggerated but that precisely for that reason are charming to those who look at them.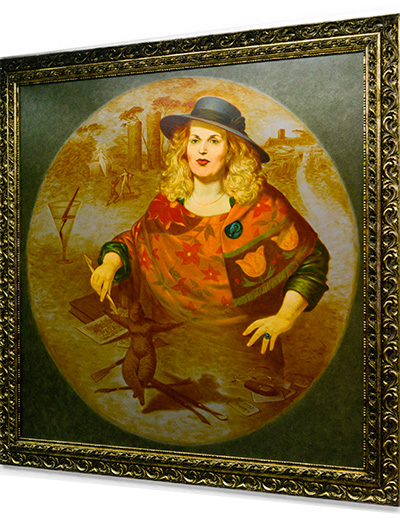 The comparison with the characters of Fernando Botero is spontaneous, even though according to me, the only common element between your figures and his is the "overweight"…
I can't deny that at least eight people over ten that look at my works mention Botero's name. But I think that that has to do with the mental laziness of those who are used to looking at things in a dogmatic way. I mean that if nowadays an artist would decide to work on a canvas cutting, putting holes, and carving, I bet that everybody would mane Lucio Fontana. Honestly I can tell you that I know Botero's work only superficially and that I didn't take him as a starting point for my sculptures.
Comparison is not only an instinct used due to mental laziness, for centuries it has been a very important method of critical observation.
Sure, it depends on the baggage of knowledge and experience that you bring with yourself.
For many sculptors clay is used only to sketch future projects that will be realized after wards in bronze. For you, on the other hand, the clay creation is a work in itself to which you add color…
It's true. As I told you I love clay. I work the clay in the same way as a sculptor sculpts marble. In clay I love the color, its sensibility to light that I can modulate with the use of color. I have to say that in addition I love the process of creation, all the steps that you bring the work through to be finished: from modeling to firing: which is almost impossible for those who do sculptures in bronze because they have to trust the person who casts the bronze.